In the modern world, where everyone is looking forward to experiencing new things, hybrid bikes have become a popular choice among most travel enthusiasts who like to experience exploration and exercise on an enhanced level.
These versatile machines are designed to tackle a variety of terrains, making them ideal for commuting, fitness rides, and recreational adventures. With an array of available options, choosing the best hybrid bike can be a daunting task. But fear not! In this article, we will explore some of the top contenders in the world of hybrid bikes, highlighting their standout features, performance capabilities, and overall value.
Whether you're a beginner cyclist or a seasoned rider, our comprehensive guide will assist you in making an informed decision and help you find the perfect hybrid bike that meets your needs and enhances your cycling experience.
Top 10 Best hybrid bikes in 2024
To help you navigate through the sea of choices, we have compiled a comprehensive comparison of the top 10 best hybrid bikes in 2024. This guide is designed to provide you with valuable insights into the standout features, performance capabilities, and overall value offered by these remarkable bicycles. We have analyzed various factors including frame materials, Speed settings, braking mechanisms, and additional features to bring you a well-rounded overview of each model.
| Hybrid Bike Model | No.of speeds | Frame Material | Wheel size | Brakes | Price |
| --- | --- | --- | --- | --- | --- |
| TREK FX 3 DISC | 10 | Alpha Aluminum | 700x38mm | Hydraulic Disc | Check Price |
| The VERVE 2 DISC | 8 | Alpha Aluminum | 700x45c | Hybrid Disc | Check Price |
| PRIORITY CLASSIC PLUS | 3 | Aluminum | 700c | Coaster Brake with Dual Pivot Hand Brake | Check Price |
| Schwinn Discover | 21 | Aluminum | 28 inches | Linear Pull | Check Price |
| Schwinn Volare | 14 | Aluminum | 28 inches | Alloy caliper | Check Price |
| Vilano Diverse 3.0 | 24 | Aluminum | 29 inches | Disc | Check Price |
| Hiland Hybrid Bike | 7 | Aluminum | 28 Inches | Caliper | Check Price |
| Schwinn Wayfarer | 7 | Alloy Steel | 18 inches | Linear Pull | Check Price |
| sixthreezero Around The Block | 1 | Aluminum | 26 inches | Coaster | Check Price |
| Schwinn GTX Comfort | 21 | Aluminum | 28 Inches | Disc | Check Price |
Best Hybrid Bikes Under 1000$
TREK FX 3 DISC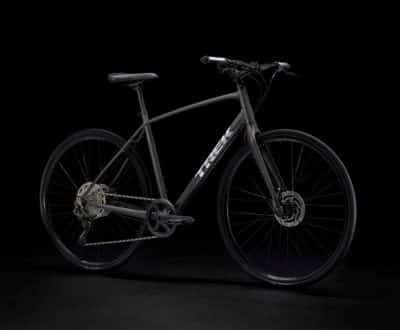 The FX 3 Disc is a true all-rounder, seamlessly blending the qualities of a lightweight fitness bike, a commuter, and a neighborhood cruiser. Its standout feature is the simple-yet-capable 1×10 drivetrain, which revolutionizes your riding experience. With this drivetrain, you get all the gears you need without the unnecessary clutter. It allows for smooth gear transitions and provides excellent control on any terrain. Whether you're conquering steep inclines or cruising along city streets, the FX 3 Disc has your back.
This bike's versatility extends beyond its drivetrain. Its compatibility with a wide range of accessories, such as the MIK rear rack, kickstand, fenders, and lights, makes it incredibly easy to customize to your needs. Whether you're transporting groceries, commuting to work, or embarking on a long fitness ride, the FX 3 Disc has you covered.
One noteworthy feature of the FX 3 Disc is its internally routed cables. Not only does this sleek design enhance the bike's aesthetics, but it also provides protection against the elements. Say goodbye to cable damage caused by rain, dirt, or debris, as this bike ensures durability and longevity.
Moreover, the FX 3 Disc offers an optional DuoTrap S compatibility, allowing you to pair it with your smartphone and seamlessly send your ride data to your favorite fitness app. This integration enables you to track your progress, set goals, and stay motivated on your fitness journey.
In comparison to other bikes on the market, the FX 3 Disc's 1×10 drivetrain sets it apart from the competition. Its lightweight frame, versatile customization options, and integrated technology make it an exceptional choice for fitness enthusiasts seeking a reliable companion for various riding experiences.
The VERVE 2 DISC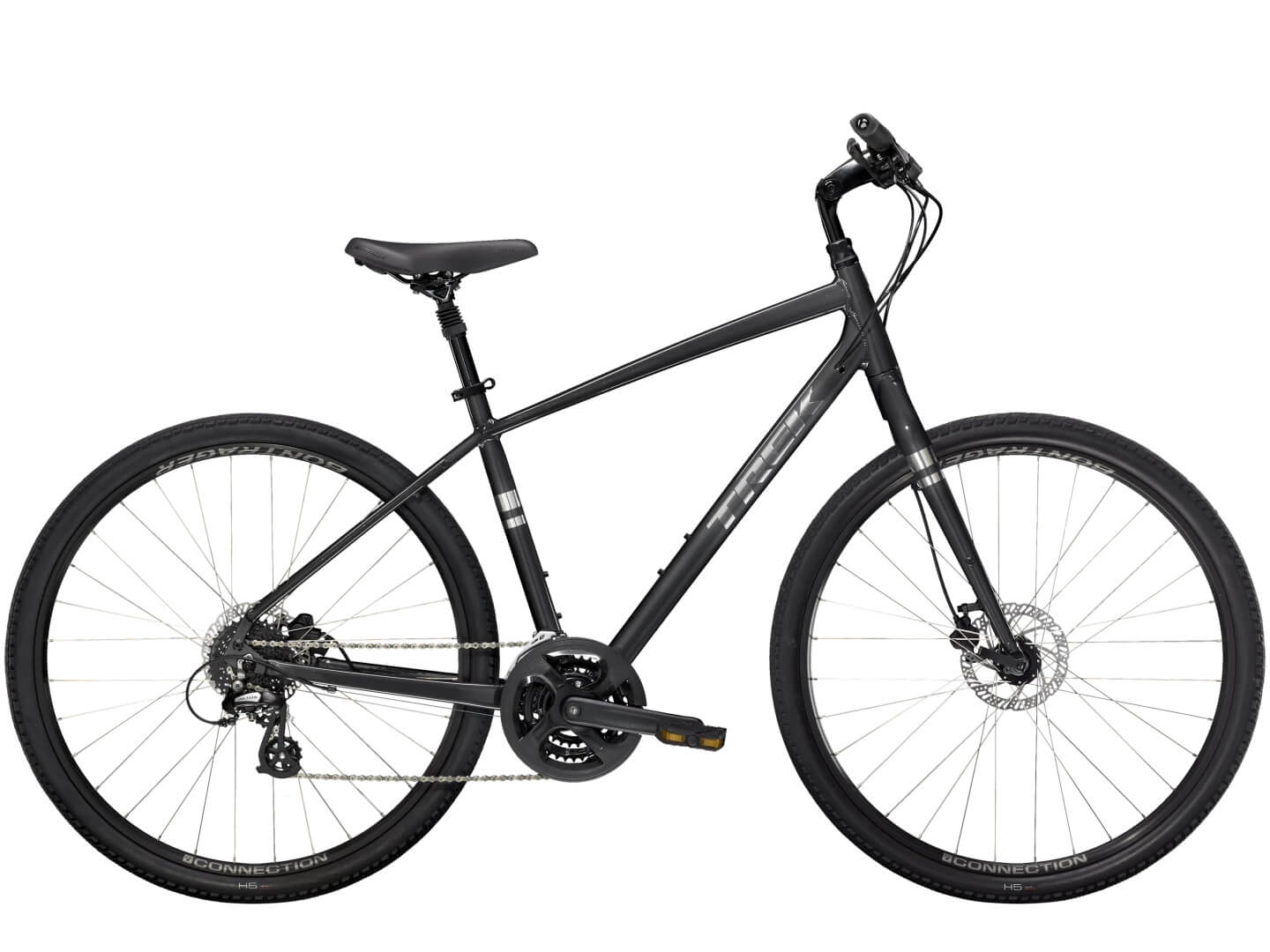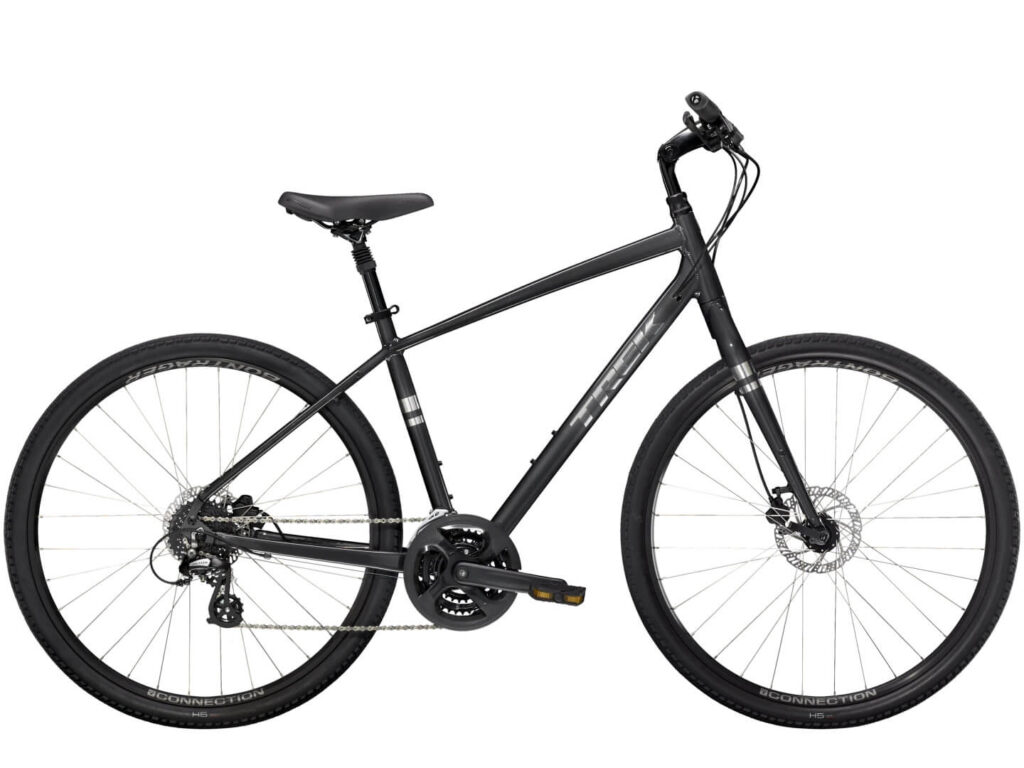 One of the highest-functioning hybrid bikes known for its versatility and simple design is the Verve 2 Disc. This bike is perfect for riding, commuting, and leisure cycling. This hybrid bike has one of the most significant aesthetic appeals and is available in lithium grey and rage red colors. The custom design mode of Verve 2 Disc allows its rider to attach a trailer to tow your kids or meet up with friends or carry groceries.
The Trek hybrid feature gives you better performance in any weather with less effort. The Alpha aluminum frame is high-performance for unmatched quality of riding. Its hydraulic disc brakes are powerful, and their stopping power applies to muddy and dry weather conditions. Equipped with a reliable 24-speed drivetrain, this bike ensures that you'll never have to pedal too hard or too soft, regardless of the terrain.
Comfort was clearly a priority in the design of the Verve 2 Disc. The adjustable stem and suspension seatpost ensure that riders can easily customize their riding position for optimal comfort and a relaxed, upright posture. Additionally, the wide tires contribute to extra stability, absorbing road vibrations and providing a smooth ride even on uneven surfaces.
Whether you're embarking on daily commutes, family outings, or leisurely rides, the Verve 2 Disc delivers a smooth and enjoyable experience. I wholeheartedly recommend this bike to any cyclist who values comfort, reliability, and the joy of exploration.
PRIORITY CLASSIC PLUS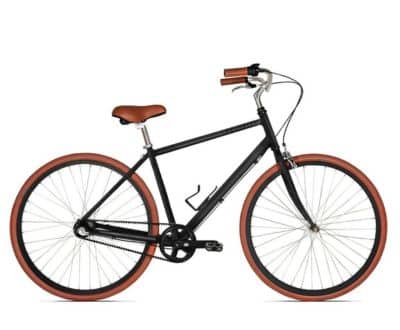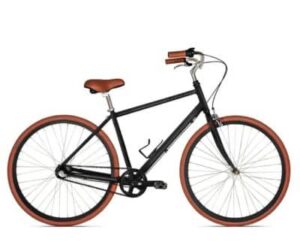 Combining a classical design with stylish and practical modern features, the Priority Classic Plus is one of the most sustainable hybrid bikes in the market. Built with a rust-free aluminum frame, this lightweight bike takes your adventurous experiences to the next level. The ultra-light components and puncture-resistant tires make this bike safe and secure. High quality and low maintenance are some of the features that every cyclist looks for, and therefore The Priority Classic Plus is an ideal choice. The grease-free gates and carbon die belts are equipped with solid automotive applications specifically designed for wear and tear for your everyday riding needs.
The rear cassette with three-speed shifters allows the riders to enjoy a comfortable right on both mountains and plain terrains. The water-resistant seat can be adjusted according to the rider's needs. It also features dual hand brakes and rear freewheel hub that is responsive and smooth. Overall the priority classic class combines classic aesthetics with modern technology-based attributes making it a spectacular choice for urban cyclists.
Best Hybrid Bikes Under 500$
Schwinn Discover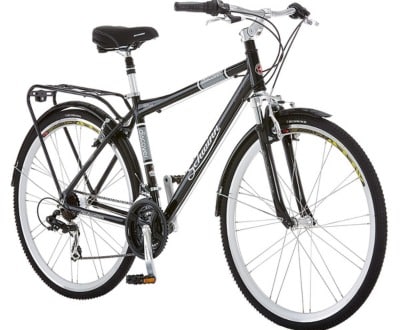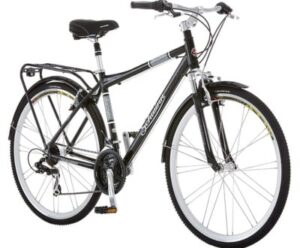 Known for its versatility and reliable design options, the Schwinn Discover bike is affordable and suitable for beginners and advanced cyclists. Designed for a comfortable and efficient cycling experience, this hybrid bike offers its riders blended features of both road and mountain bikes. Due to its lightweight aluminum frame, this bike is highly durable and sturdy; it provides stability and efficiency even in the most severe weather conditions. Its frame is designed with a riding position that ensures a relaxed experience and posture during cycling.
The 21-speed SRAM grip enhances the gear changes making it easy to adapt to the different needs of the cyclists while riding. Whether you are trekking on a hill or casually cruising on road surfaces, a wide range of gear are available. This hybrid bike is equipped with Promax alloy linear pull brakes, providing reliable stopping power at any given condition. Thus, Schwinn Discover not only looks after your experience but also your security.
Schwinn Volare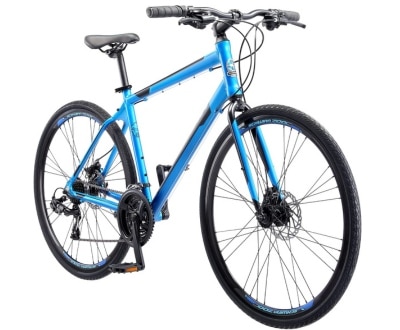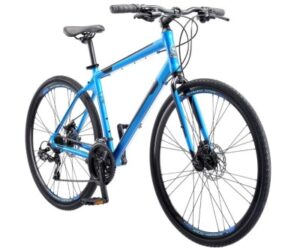 The next hybrid bike under $500 is another model from Schwinn Brand, Schwinn Volare. With 28-inch wheels that accommodate individuals ranging from 64 to 74 inches tall, it offers a comfortable fit for a wide range of riders. The inclusion of 21-speed trigger shifters ensures smooth and effortless gear changes, allowing riders to adapt to varying terrains with ease.
One standout feature of this road bike is its alloy disc brakes, which provide exceptional stopping power. Whether you're riding in urban areas or tackling challenging descents, these brakes instill confidence and promote rider safety. Additionally, the alloy, high-profile double-wall rims contribute to the bike's lightweight construction while ensuring strength and durability.
Overall, the road bike with its aluminum rigid fitness frame, 28-inch wheels, 21-speed trigger shifters, alloy disc brakes, and Schwinn sport saddle is a well-rounded option for those seeking a versatile and enjoyable cycling experience. Whether you're an experienced rider or a beginner looking to enhance your fitness routine, this bike offers a reliable and comfortable ride, making it a worthwhile investment for any cycling enthusiast.
Vilano Diverse 3.0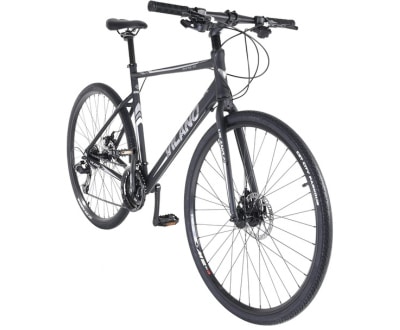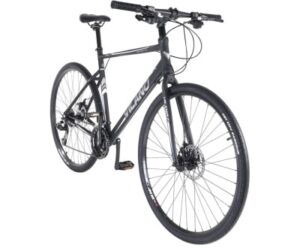 The Vilano Diverse 3.0 is a reliable, comfortable hybrid bike designed for various cycling needs. Its hydroformed alloy frame and fork ensure a lightweight yet sturdy build that can handle various terrains with ease. The sleek black color adds a touch of sophistication to its overall design.
Equipped with disc brakes, this bike provides exceptional stopping power, offering riders a sense of security and control. Whether cruising through urban streets or tackling challenging trails, the Vilano Diverse 3.0 Hybrid Bike ensures a smooth and reliable braking experience.
The 700c wheels and 700c x 35c tires further enhance the bike's performance, providing a balance between speed and stability. These components allow for efficient rolling on both smooth pavements and rougher surfaces, making it a versatile choice for riders of different skill levels.
One notable feature of this bike is its upright handlebar, designed specifically for comfort. It promotes a more relaxed riding posture, reducing strain on the rider's back and shoulders during longer rides. This ergonomic design allows for a more enjoyable and less fatiguing cycling experience. Whether commuting to work or exploring new trails, this bike delivers an exceptional riding experience.
Best Hybrid Bikes Under 300$
Hiland Hybrid Bike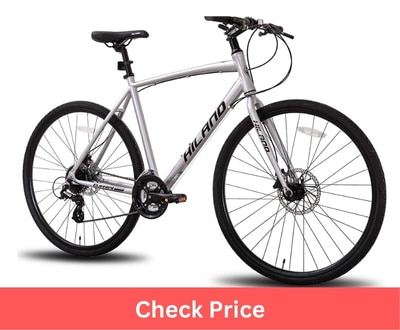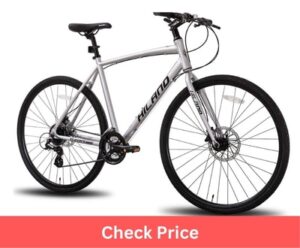 Whether you're a newbie cyclist or someone looking for a reliable commuting option, the Hiland Hybrid Bike ticks all the right boxes. One of the standout features of this hybrid bike is its 53-centimeter wheel size. This provides a balanced and smooth ride, allowing for effortless maneuverability on both urban streets and scenic country roads. The Hiland Hybrid Bike offers 24 speeds, ensuring that riders can easily tackle various terrains and inclines with ease.
Its flat handlebar design sets the Hiland Hybrid Bike apart from its competitors. This feature provides a comfortable and stable grip, allowing beginners to ride confidently. When it comes to safety, the Hiland Hybrid Bike excels with its dual disc brake system. These brakes offer superior control, especially in emergency situations, ensuring quick and reliable stopping power. Furthermore, installing and maintaining these brakes are straightforward, making it convenient for riders to keep their bike in top shape.
Available in three stylish colors – red, black, and silver – the Hiland Hybrid Bike combines functionality with aesthetics. Its sleek design and attention to detail make it an attractive option for riders who appreciate both performance and style. If you're in the market for a high-quality budget hybrid bike under $300 that offers comfort, performance, and style, the Hiland Hybrid Bike is an excellent investment that won't disappoint.
Schwinn Wayfarer Hybrid Bike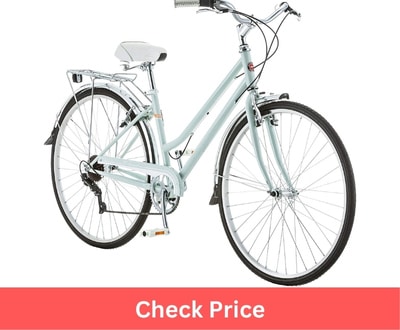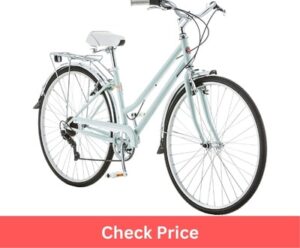 I recently had the chance to test out the Schwinn Wayfarer hybrid bicycle, and I was thoroughly impressed with its performance, comfort, and style. Designed specifically for women, this high-quality bike offers a smooth and secure ride perfect for cyclists of all skill levels.
The standout feature of the Wayfarer is its plush and premium saddle, which provides exceptional comfort. Schwinn has prioritized rider comfort with this saddle, ensuring long rides are enjoyable and pain-free. In terms of design, the Wayfarer boasts a sleek and streamlined appearance, enhanced by the rear reflector. Not only does it add a touch of style, but it also improves visibility, promoting safety during nighttime rides.
The performance of the Wayfarer is outstanding. The front suspension fork effectively absorbs shocks and bumps, resulting in a smooth and stable ride. This is particularly beneficial when riding on uneven terrains or encountering obstacles. The slight-rise handlebar promotes an upright riding position, reducing strain on the back and shoulders.
The braking system on the Wayfarer is impressive, with linear-pull brakes delivering strong stopping power. This instills a sense of confidence and control, whether you need to make sudden stops or navigate through crowded areas. Additionally, the fenders provide protection from splashes, keeping you clean and dry even in wet weather conditions.
With its 7-speed rear derailleur and twist gear shifters, the Wayfarer offers smooth and efficient gear changes, making it suitable for various terrains. The gear range is versatile enough to handle hills and rough paths, ensuring a comfortable pedaling cadence regardless of the terrain.
Schwinn has added a retro-styled frame to the Wayfarer, giving it a distinctive vintage touch. This unique aesthetic sets it apart from other hybrid bikes on the market and adds a touch of personality to your rides. I highly recommend the Schwinn Wayfarer to all women looking for a top-tier hybrid bicycle.
Sixthreezero Around The Block – Best Womens hybrid Bike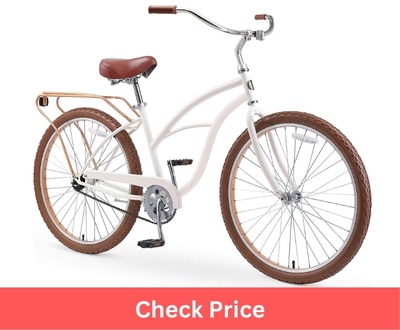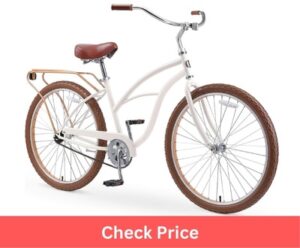 First and foremost, the 17-inch durable steel frame of the sixthreezero Around The Block provides excellent stability and durability. It is designed specifically for women, featuring a classic and curvy frame that adds a touch of elegance to the overall aesthetic. The upright riding style helps to alleviate strain on the back and shoulders, ensuring a relaxed and enjoyable ride. The dual-spring saddle and wide cruiser handlebar with foam grips further enhance comfort, allowing you to cruise for extended periods without discomfort.
Equipped with a 3-Speed Shimano internal hub and an easy-to-use Nexus shifter, the Around The Block is perfect for longer distances and moderate hills. This setup allows for smooth and effortless gear changes, ensuring you can tackle varying terrains with ease. Additionally, the front handbrake and rear coaster brakes provide reliable stopping power, promoting safety during your rides.
The 26-inch, 2.125-inch wide aluminum wheels of the Around The Block are a true highlight. Paired with the large waffle tread tires, they provide a cushioned ride that glides effortlessly over different surfaces. Whether you encounter rough pavement or uneven terrains, this bike's wheels and tires absorb shocks admirably, delivering a smooth and comfortable journey.
Another noteworthy aspect of the Around The Block, the best hybrid bike for female beginners, is the wide range of color options available. With nine different colors to choose from, you can select a bike that matches your personal style and preferences. Whether you're exploring the neighborhood or taking on moderate hills, this bike delivers a delightful riding experience that is hard to beat.
Things to consider when buying a hybrid bike
Before investing in a hybrid bike, one should keep several essential things in mind to ensure that purchasing the bike is done efficiently and that all the needs and requirements are adequately met.
Riding Style: It is essential to determine the kind of bike you need, whether for leisure, athletics, or everyday use. Determine how you plan to use the bike. Will you mainly ride on roads, trails, or a combination of both? This will help you choose the appropriate features and specifications.
Frame Material: Look for a lightweight and durable frame material such as aluminum or carbon fiber. They are excellent in providing resistance and a robust feel.
Frame Geometry: Other than frame material, one should also keep in mind the geometry of their frame so that the bike ride is more upright and relaxed. The frame geometry is directly proportional to the comfort level the hybrid bike provides.
Suspension: This feature plays a crucial role in determining shocks and vibrations. Having a good suspension can provide you with better efficiency on paved roads or challenging terrains.
Gearing: Hybrid bikes employ a range of gearing systems, including single-speed, multi-speed, and internal hub gears. The number of gears affects the bike's versatility and its ability to handle varying terrains. Multi-speed bikes with a wide gear range are ideal for tackling hilly areas, while single-speed bikes offer simplicity and low maintenance. Internal hub gears, concealed within the bike's rear hub, provide a clean aesthetic and reliable shifting.
Handlebars: Hybrid bikes typically have flat or riser handlebars. Flat bars provide an upright riding position for better visibility, while riser bars offer a more relaxed and comfortable posture.
Brakes: Reliable and responsive braking is crucial for any bicycle, and hybrid bikes are no exception. The two main types of brakes used in hybrid bikes are rim brakes and disc brakes. Rim brakes, such as caliper brakes and V-brakes, are lightweight and effective for urban riding. Disc brakes, available in mechanical and hydraulic variants, deliver superior stopping power and perform well in wet conditions.
Accessories: Determine if you need additional features like racks, fenders, lights, or a kickstand. These can enhance utility and convenience based on your commuting or recreational needs.
Budget: Set a budget range based on your requirements and desired quality. Consider both the upfront cost and potential maintenance or upgrade expenses.
Frequently asked questions (FAQ)
Are hybrid bikes faster than mountain bikes?
The answer depends on various factors. Hybrid bikes, with their lightweight frames and narrower tires, offer higher speeds on paved roads. Mountain bikes, designed for off-road adventures, may be slower on smooth surfaces due to wider tires and suspension systems. Additional factors like weight, riding position, and gearing also influence speed. Ultimately, the choice between hybrid and mountain bikes should be based on your preferred terrain and riding style.
Can you ride a hybrid bike long distance?
Yes, hybrid bikes are suitable for long-distance rides. Designed for versatility, they offer a comfortable and efficient riding experience on various terrains. With their lightweight frames, durable components, and balanced geometry, hybrid bikes are ideal for extended journeys.
what size bike should a 5 foot woman get?
For a woman who is 5 feet tall, it's recommended to consider a bike size that offers a comfortable and safe riding experience. Generally, a bike with a smaller frame size, such as 13-15 inches, would be suitable. However, it's crucial to try different bike sizes and styles to find the best fit for your body proportions and preferences.
Are disc brakes worth it on a hybrid bike?
Yes, disc brakes are worth considering for a hybrid bike. Disc brakes offer several advantages over traditional rim brakes, especially for long-distance rides. They provide superior stopping power and modulation, allowing for more precise control in various weather conditions. Disc brakes also perform consistently well, even in wet or muddy environments, reducing the risk of brake fade.
Do I need a women's-specific model to get the best hybrid bike for me?
While women's-specific models can offer certain benefits, such as better fit and ergonomics for female riders, they are not a requirement to get the best hybrid bike for you. Many hybrid bikes are designed with adjustable components that can accommodate riders of various body types and preferences.
Conclusion
In conclusion, hybrid bikes are one of the most efficient modern-day approaches to cycling. As an activity all age groups prefer, hybrid bikes are the most suitable option for anyone looking forward to enjoying adventures or traveling. The lightweight frames, multiple gearing systems, and practical saddles make hybrid bikes easy, efficient, and smooth. Overall hybrid bikes are an excellent choice due to their dynamic and versatile approach to riding or athletics. These bikes maintain a comfortable balance between performance and efficiency.